Ring Lawn Care is all about service. We provide weekly lawn care and snow plowing services to residential and commercial clients. In this industry it is hard to just focus on one aspect of client. We still have 15 of the 20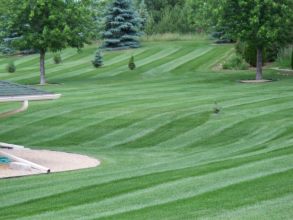 customers since conception in 2002.
Take a look at this residential home after we completed the mowing. No this is not a golf course or Photoshopped. My son cut this to perfection, at first glance his verbalization was "All I see is a golf course."
Having commercial accounts does help us get through the tough MinneSnowta winters, but we rely on both residential and commercial clients throughout the growing season.
Our experience with commercial properties has been a good one. But, one year you may have that account and the next, SOMEONE knows someones uncle who works there. It is hard in this economy to compete with the companies that have a lot of cash flow, as they are able to "Under Cut" their prices.
Every customer is searching for the lowest price for services. There is only one problem with this….did you hire a professional?
Example: Person loses their job and has a lawn mower, takes on a couple of accounts making some get quick cash. They get their job back. Now guess who is calling us? You guessed it and they're looking for the estimate their previous "non-professional lawn care person" gave them. The problem with this is, is this throws our industries prices way off. And this happens with all industries, not just lawn care and landscaping.
I'm no economist, nor college educated, could this be a factor of why our economy is in the situation it's in today?
This is our way of life and our means to an end, so you know as a customer you will receive the best property maintenance.