Weekly Lawn Mowing & Fertilization
Follow the link below to learn about Weekly Lawn Mowing and Fertilization Pre-Payment. Please send service agreement with Payment.
Summer Reminder
We have started providing Spring services for a few of our recurring customers and wanted to remind you that summer is coming!
When summer does get here we hope you have signed on with Ring Lawn Care again for this season!


Weekly Lawn Mowing
Have you signed your turf up for weekly lawn mowing? If you have not received a Service Agreement for Fertilization or Weekly Lawn Mowing, feel free to contact Bryan Ring.
Fertilization
A fertilization and weed control plan will fight weeds and promote healthy turf growth. Adding weed control to your lawn care plan, will also help eliminate various other broad-leaf weeds.
 
Core Aeration
Lawn aeration should be on your yearly turf maintenance schedule. Late spring to early summer is a good time to aerate, usually around the time your turf is making a come-back from the winter months.
 
Shrub Trimming
Shrub trimming will enhance your property curb appeal at an affordable rate. Your trees (up to 12′), shrubs and bushes, need to be correctly shaped and pruned at the proper time to promote well-balanced growth.
 
Mulch Installation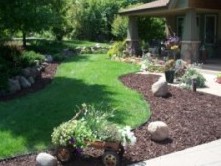 Installing mulch in your landscaping beds will also enhance your property curb appeal. Adding mulch will help control broad-leaf weeds. Also adding mulch around your trees adds an extra touch of beauty.