This past winter I had a vision of where I see my company this year. Everything started out just like most Spring's; Dig the mowers out of hibernation, hire a couple employees, get trucks and trailers ready, and line up accounts.
The vision was that of a "Plus One" philosophy. This philosophy included hiring college students, something Ring Lawn Care has never attempted. This philosophy in a nut-shell was simple, hire one extra person in the event one or more employees would need time off. For some reason we find those with good short-term work ethic. Off and on for roughly two months we were actually at a "Plus Two".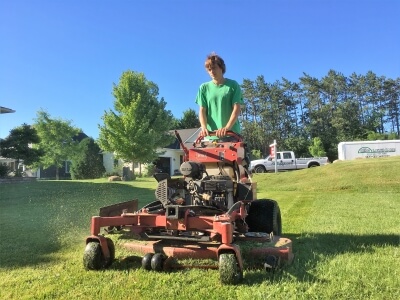 I was more than willing to take the financial hit to have "Business As Usual" continue. Of course I personally would be ready to head into the field at a moments notice, but my vision was that of staying completely out. Not because I deserve it or no longer "Love what I do for a living", more to watch the business run itself so to speak.
Believing that it is/was possible, slowly but surely throughout the summer I watched this dissipate. Due to some employees early departure, I am forced to reenter the field full-time or until someone can take my place.
Still trying to put a finger on the lack of work ethic some people have. Not saying they did not work hard when they were actually here, merely pointing out they slowly became not good workers.
What does that actually look like to me?
🗸Not Showing up on time
🗸Requesting meaningless days off
🗸Lying about why they would call in
🗸Weekend adventures requiring time off to recover
🗸Talking when there is a task at hand
🗸Lack of pride in work
🗸Feeling undervalued and not mentioning
These are just a few of the experiences encountered over this summer and past fifteen seasons that I take full responsibility for. This year there has been damage to equipment, trucks & trailers more so than years past. Most damage could have been prevented by simply taking it slow.
Breakdowns, Clarity, Realization
Quite a few breakdowns in equipment and vehicles as well. Implementing a proactive approach by having backup vehicles and equipment, we have never went without the tools needed to get the job done.
Some of these people do not realize that a career structure has been set up for them, but have simply looked at this type of work as a "Job" or a mere paycheck. I am conflicted and clearly have not relayed this message very well. No one ever simply handed me this type of structure when I was an employee and said, "This is what you make it". Nor said, "I see it in you", so here is more money because you bust your ass more than anybody.
As a business owner, no one ever handed me the blueprint of how a business should be run either. I am not the perfect business owner, but who is? For years I have put others before me and remained loyal as much as one can be. Very aware that is not how to run a business, but my mentality has always been put others before me. No employer has ever done that for me. But it is also clear, people when giving the opportunity will take advantage.
With all of that said, it is clear things need to change, I am not getting any younger. All the training in the world cannot break already established bad habits, it is up to the individual. I have taken a real good look at my part in this journey and have come to the realization that I have not been running my business, like a business. My care for people has actually got in the way of that. Of course we need to take care of our people, but we must also take care of us too.